1914 to 2014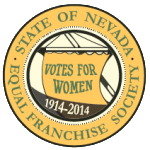 The Nevada Suffrage Centennial Logo and Website are made possible by a grant from the Nevada Humanities Committee to the Nevada Women's History Project.
The logo (at left) is fashioned after the 1914 pin for the Nevada Equal Franchise Society. The Nevada Suffrage Centennial Website includes suffrage history from 1864 to 1948, Nevada suffragist biographies and a Blog by Sally Zanjani.
The NWHP will be expanding the website to include the 2014 commemoration, articles by Nevada suffrage scholars and other suffrage facts.
Mission: "Providing visibility and support for the gathering and dissemination of history about the roles and contributions of Nevada women of every race, class, and ethnic background."
Nevada Women Make It Happen in 1914!
By Kathleen Noneman
Nevada women have been campaigning for the right to vote since shortly after Nevada became a state in 1864. Therefore it is fitting that we celebrate our two important birthdays in the same year. In 2014 Nevadans celebrate the 150th anniversary of statehood and the 100th anniversary of women's suffrage.
Just as it is this year, the election of 1914 was an "off year election" so there was no contest for President to draw out a heavy turnout of voters. The Nevada Equal Franchise Society and other campaigners for suffrage had to not only convince the voters, all men, to support their cause but also persuade them to come out and vote. These women had set themselves a herculean task. As Miss Anne Martin, President of the Nevada Equal Franchise Society described it in her Suffragist magazine article, November 3, 1914, "The Winning of Nevada":
"Twenty thousand voters, scattered over an area of 110,000 square miles, gave an average of one voter to every five square miles to be sought out and educated." She further writes that …"the most important educative factor in our campaign was personal contact with the voter".
The Nevada Equal Franchise Society created local branches throughout the state. These suffrage campaigners had to visit and personally speak to miners, farmers, sheepherders, cattle raisers, shop and tavern owners and townspeople everywhere. Traveling by train, automobile, stage and even on horseback, they had to go everywhere and do whatever it took to personally speak to every man to convince him to vote for women's suffrage. These workers flooded their local newspapers with suffrage progress bulletins and posted printed material wherever it might be read.
Their hard work paid off with a glorious victory: a majority of 3,000 votes statewide: 10,936 men voted for and 7,258 voted against the measure. After the election of 1914 women had the right to vote in all Western states. Our pioneer spirit had prevailed!