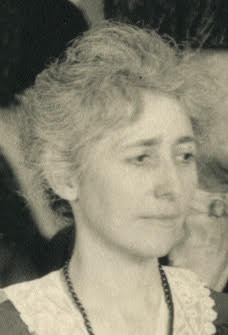 Birth: August 11, 1876 Carson City, Nevada
Death: October 19, 1963 Reno, Nevada
Role in Women's Suffrage: Actively involved in Nevada suffrage
HerStory: Bertha Cohn, a native Nevadan, was the first-born child of Morris and Pauline Cohn. Her siblings were Felice, Tichelle, Herbert and Lillian. Her sister Felice Cohn was a Nevada attorney and author of the legislation which lead to Nevada women gaining the right to vote in 1914. Bertha was active in this suffrage movement with her sister. Bertha's obituary in the Reno Evening Gazette states "She took an early part in the women's suffrage movement in Nevada …"
When Bertha was 24, she married S. Bert Cohen, on July 11, 1901. The marriage produced one daughter, Marjorie. After this date the documentation on Bertha interchangeably uses Cohn or Cohen. The marriage did not last and by 1910 Bertha is listed on the Census as "divorced."
She stayed in Carson City and worked as a stenographer, eventually becoming a stenographer for Nevada Governor Emmet D. Boyle (1915-1923). In 1918 she became Clerk to the Governor and then was appointed Private Secretary to the Governor on October 22, 1918. A Reno Evening Gazette article states that Bertha was the first lady in the nation to be a Private Secretary to a Governor. When Gov. Boyle was succeeded by Gov. Scrugham, Bertha returned to the private sector.
Bertha and Felice were active in the Reno Business and Professional Women's Club. Bertha was a member of the Red Cross and was also on the board of directors of the Bowers Mansion restoration group.
Both Bertha and Felice were cremated, and their locations are unknown.