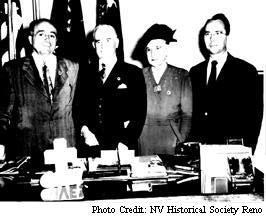 Born: 1878
Died: 1961
Felice Cohn, born and reared in Carson City, studied law for several years prior to being admitted to the bar in 1902. She also worked as a court reporter. Her first cases were focused on land issues, patenting mining claims, and other mining matters. She practiced in both Goldfield and Carson City. The Federal government employed her as assistant superintendent of public sales of land. In May, 1908, she was admitted to the District Court of Appeals in San Francisco.
Vitally interested in the welfare of women, Felice became involved in suffrage rights for women in 1911. She was one of the founding members of the State Equal Franchise Society and chaired the legislative committee during the 1911 legislative session, lobbying effectively during that time to see the successful passage of the resolution she had drafted: "There shall be no denial of the elective franchise at any election on account of sex." There was still more work to be done by many women before it would be passed in 1913 and ultimately placed on the ballot for final passage. Felice was involved in chartering a Non-Militant Suffrage Society and the Nevada Voter's Club, both with members numbering in the hundreds. Parades and demonstrations were then considered militant.
Opening a law office in Reno in 1922, she was consistently involved in the legal profession as a persistent and quiet voice shaping and supporting issues to better the quality of life for women and children. Felice unsuccessfully ran for office including for State Assembly in 1924 and later for Reno City Attorney in 1927. She was involved in numerous professional organizations. Her work to obtain a $15,000 grant from the legislature to establish a permanent home for the Nevada Historical Society was successful.
Written by Jean Ford; condensed by Kay Sanders.