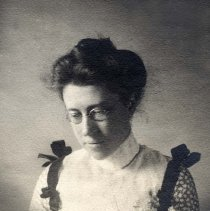 By Patti Bernard, Nevada Women's History Project
Role in Nevada Suffrage: Vice-President, Nevada Suffrage Association; Nevada Governor Boyle's advisor on Suffrage, 1920
Florence Church came to Reno, Nevada in 1894.  Born in St. Clair, Michigan in 1869 she studied at Oberlin College, the University of Michigan, and the University of Munich. She, then, traveled to Reno where she married former classmate, Professor J.E. Church. 
Taking the first several years to obtain both B.A. and M.A. degrees at the University of Nevada, she was a founder and president of the Nevada Women's Faculty Club and throughout her life, had a close association with the University community. 
Florence also threw herself into women's issues.  She had excellent leadership skills and joined many reform minded organizations.  She became president of the Twentieth Century Club, vice-president of the Nevada Suffrage Association and the Women's Christian Temperance Union. Not only was she president the Nevada Federation of Women's Clubs, she became their National Director.
Florence was active in Nevada's 1914 successful suffrage campaign. She was president of the Federation of Women's Clubs and closely involved with Governor Emmitt Boyle in the decision to call for a special legislative session on Feb. 7, 1920. As written in a January 27, 1920 Reno Evening Gazette article; 
"The special session call was probably made by the governor on the advice received in a letter from The Federation of Women's Clubs President Mrs. J.E. Church…" 
The governor was concerned about the cost of calling a special session for amendment ratification and the Federation of Women's Clubs, through its Conservation Committee headed by Mrs. R.D. Eichelberger, took an active part in canvassing state legislators to ascertain if each would attend the special legislative session and donate their time and travel expenses in support of Nevada's passing the nation's nineteenth amendment.  As an additional inducement, the women volunteered to use their autos to transport solons to Carson from as far away as Goldfield and Tonopah. The amendment passed.
Unfortunately, almost two years to the day, Florence Church was dead.  She had suffered, what was probably a stroke, while attending a university game, and died February 5, 1922.  
Sources:
"Call Is Sent Out by Governor for Extraordinary Session." Reno Evening Gazette (Reno, Nevada), January 27, 1920, p 1:1.
"Special Session Call Was Due in October." Reno Evening Gazette (Reno, Nevada) January 30, 1920, p 8:1.
"Two Houses Ratify in Record Time." Reno Evening Gazette (Reno, Nevada), February 7, 1920, p1:1.
"Prominent Nevada Club Woman Dies at Home in Reno." Nevada State Journal (Reno, Nevada), February 6, 1922, p 4:5.
"Mrs. Florence Humphrey Church-A Tribute." Nevada State Journal (Reno, Nevada) p 2:3.
"Three Michigan Women." The Michigan Alumnus, Vol.28, October 13,-September 14, p 851.