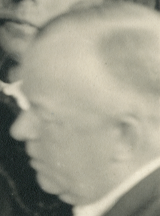 Birth: November 22, 1883 Mason Valley, Nevada
Death: May 10, 1974 San Jose, California
Role in Women's Suffrage: "…Assistant President of the Federation when the big fight was on…" Mason Valley News, February 14, 1920
HisStory: George was born in Mason Valley, Nevada November 22, 1883 to James and Annie West. He graduated from the University of Nevada in engineering in 1904 and promptly left to take charge of a large cyanide plant in Costa Rica. Returning to the states, he married Edith Brake of Colorado in 1909 and the couple moved to Yerington to begin their married lives. They had three children, Franklin E. West, Robert J. West and Marianna West.
George was owner of the local telephone company (West Telephone Co.) as well as West Hardware in Yerington. In 1912 George was elected to the school board of trustees of District No. 9 in Yerington. He entered local politics and served as a councilman in 1921. He was a member and past master of the Yerington Hope Masonic Lodge and a member of the Shriners Club in Reno. He was also involved in the formation of the Commercial Club in Yerington and served as an officer.
George supported his wife, Edith West, an ardent Lyon County suffragist, and both were invited to attend the 19th Amendment ratification signing ceremony February 7, 2020.
The couple moved to Oakland, Calif. to make their new home by 1930, where Edith passed away in 1969. George succumbed May 10, 1974. Both are buried in Mountain View Cemetery in Oakland, Calif.
Researched and written by the Nevada Women's History Project for the Nevada Commission for Women, 2020