Louise Agnes Merkle Langan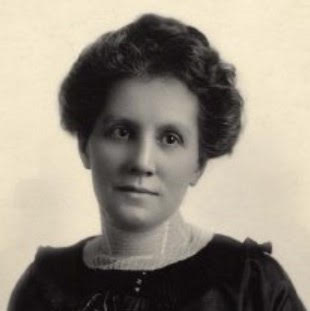 By Mona Reno, Nevada Women's History Project
Birth: May 4, 1870 Virginia City, Nevada
Death: January 2, 1950 Oakland, California
Role in Women's Suffrage: Vice-President and President of the Storey County branch of the Nevada Equal Franchise Society, Vice-President of the Nevada Equal Franchise Society
Louise Agnes Merkle Langan was a woman of Virginia City, Storey County, NV. She was born in Virginia City, married there, gave birth to her 6 children, and lived there for over 50 years. Louise Merkle married a young lawyer named Francis "Frank" Patrick Langan, who was also from Virginia City, NV. He became a prominent Judge and they were active is their community.
As the Nevada suffrage movement began, both Louise and Frank were active. In April 1912, Judge Langan presided at, and gave an address at, the Storey County meeting where their branch of the Nevada Equal Franchise Society was formed. At that meeting Louise Langan was elected vice president.
In 1914 at the second annual convention of the Nevada Equal Franchise Society, in Reno, Louise Langan was elected sixth vice-president. Also, that year she was elected vice president of the Relief Corps in Virginia City and was the mother of six children under 14 years old. 
Sara Bard Field mentions Louise in her article for Out West magazine in August 1914 about the Nevada suffrage movement, titled "Clash in Nevada." "Mrs. Lyman Clark, Jr., and Mrs. F.P. Langan, of historic Virginia City (the seat of the Comstock lode), successive presidents of Storey County, have built up an excellent suffrage sentiment there. Woman's Independence Day, on May 2, was marked by the blowing of the whistles in the hoisting works of all the great mines of the district. Whistles which for forty years have called the miners underground to delve nearly a billion dollars from the depths, on May 2 heralded the approach of freedom for Nevada women."
Storey County population dropped from 1,469 in 1920, to 667 in 1930, due to the crash in mining. The Langan family was part of that decrease. They moved to California where Frank died in San Francisco in 1929. Louise, age 59, remained indefatigable and is listed in the 1930 US Census living in Oakland, CA as an assembler in an auto body factory. 
Louise Langan died at age 89 in Oakland, CA on January 2, 1950. She is buried with her husband at the Holy Cross Cemetery in Colma, CA.
Sources:
Austin E. Hutcheson, "The Story of the Nevada Equal Suffrage Campaign: Memoirs of Anne Martin," University of Nevada Bulletin Vol. XLII: No. 7 (August 1948).
 "Former Nevadan Taken by Death," Nevada State Journal, January 3, 1950, pg. 2.
Francis P Langan, in the California, Death Index, 1905-1939, via Ancestry.com.
"Miss Martin Remains as Suffrage Leader," Nevada State Journal, February 25, 1914, pg. 8.
Nevada, Marriage Index, 1860-1987, via Ancestry.com.
Sara Bard Field. "Clash in Nevada: A History of Woman's Fight for Enfranchisement. The Nevada Suffrage Fight." Out West, August 1914, pg. 63.
US Census Records, via Ancestry.com.  1870, 1880, 1900, 1910, 1930.
"Woman Suffrage Department," Reno Gazette-Journal, April 30, 1912, pg. 4