Biographical Database of NAWSA Suffragists, 1890-1920
Biography of Louise Fieldson Thompson
By Kay Moore, Ed.D., Professor Emeritus, California State University, Sacramento
Secretary of Lincoln County Equal Franchise League, 1912 (Pioche, NV); Vice-President of Lincoln County Equal Franchise League (Pioche, NV), 1913
Louise Marguerite Bell Fieldson was born in Missouri in April of 1885 to parents John and Emma (Shier) Fieldson. Her parents were immigrants from England, John arriving in 1853 and Emma in 1866. Marrying in St. Louis in 1875, Louise was their only daughter, born in Missouri and enduring childhood with six brothers, four older and two younger.
Louise married Charles Agustus (C.A.) Thompson on June 23, 1909, at the Caliente, Nevada, home of her uncle John Shier, a pharmacist by trade who had been appointed the postmaster of Pioche in 1885 and unsuccessfully ran for state senator from Lincoln County in 1908. Louise must have met C.A. through him. C.A. lost his first wife in childbirth so Louise became the stepmother to two-year-old Charles Edward Thompson. C.A., born mid-October (exact date varies on documents), 1877, had an early career as a salesman. After he lost his father in 1905, C.A. and his brother Frank took over Thompson's Opera House. Dances and theatrical events were held on the second floor and the bottom floor housed a successful grocery and warehouse. A hundred-foot tunnel in the hill behind the building served as an icehouse. They remodeled the upper floor so moving pictures could be projected and in 1915, the first silent movie was shown. So Louise was provided a comfortable life which included a maid according to the 1940 U.S. census.
Mrs. C.A. Thompson (Louise) is noted in the Pioche Record (September 14, 1912) as being the secretary of the Pioche branch of the Nevada Equal Franchise Society which advertised that it met every Thursday afternoon at two o'clock in the Union Sunday School building. In that capacity, she and the other officers reported at a regular group meeting about their outreach efforts to women in the towns of Caliente and Panaca (The Pioche Record, June 29, 1912). In the October 4, 1913, edition of the same newspaper, Louise is reported as being elected vice-president of the local franchise group.
To raise funds to support their efforts, the women in the group held various events in Pioche. A grand ball which including dancing, refreshments and fortunes being told by a "famous European Gypsy" was held August 13, 1914, at Thompson Opera House according to the Pioche Record (August 8, 1914). Other activities included card and sewing parties. They also participated in civic activities such as organizing Fourth of July activities and providing refreshments for meetings with visiting Nevada members of the U.S. Congress, Representative Edwin E. Roberts (1911-1919) and Senator William A. Massey (1912-1913). Their efforts to get the men of Lincoln County to support the suffrage effort were successful as 383 votes were cast for the equal suffrage amendment in 1914 with only 81 "no" votes.
C.A. died June 27, 1948, at their home and because of his long membership with the St. John Lodge #18, was buried in the Pioche Masonic Cemetery. Louise died in 1969 and is buried with her husband.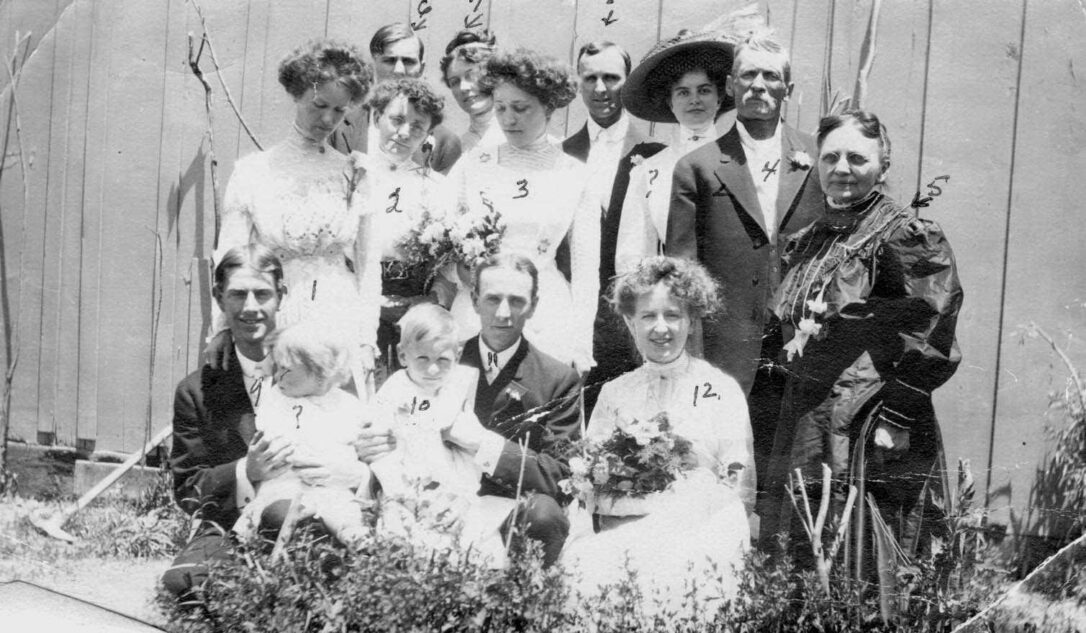 ---
References
Equal Franchise Meeting, The Pioche Record, October 4, 1913, p. 4.
Lincoln County Official Vote. The Pioche Record, November 14, 1908, p. 1.
Local News. The Pioche Record, August 8, 1914, p. 4.
Massey and Roberts Receive Ovation Here. The Pioche Record, October 12, 1912, p. 2.
Nevada Death Certificate: Charles Agustus Thompson, 1948.
Nevada Equal Franchise Society. The Pioche Record, September 14, 1912, p. 7.
Official Canvass of Votes Cast in County. The Pioche Record, November 14, 1914, p. 1.
Suffragettes Held Meeting Last Week, The Pioche Record, June 29, 1912, p. 1.
U.S., Appointments of U. S. Postmasters, 1832-1971, Lincoln County, Nevada. Ancestry.com
US Census: 1900, 1920, 1940
U.S., World War I Draft Registration Cards, 1917-1918 for Charles Agustus Thompson. Lincoln,
County, Nevada. Ancestry.com
Wedding Announcement. Las Vegas Age, June 26, 1909, p. 4.