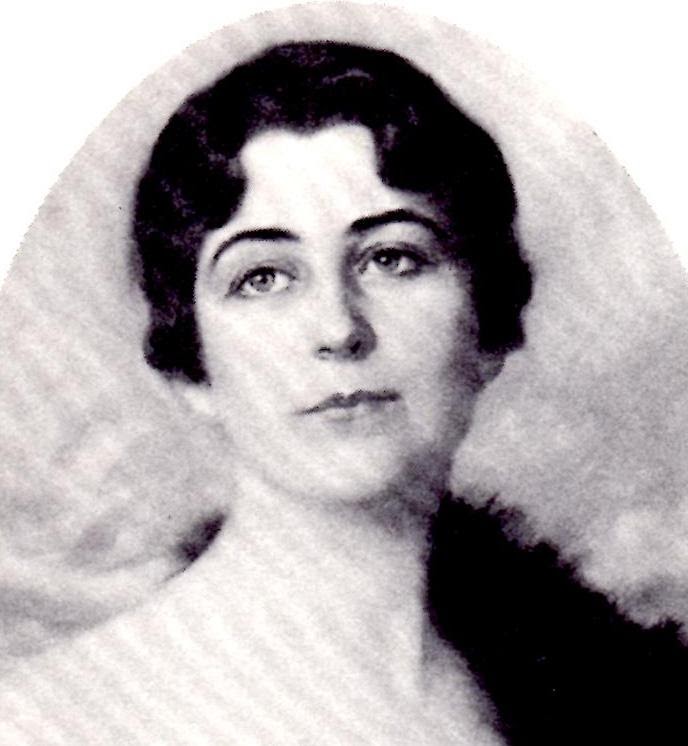 By Mona Reno, Nevada Women's History Project
Role in Women's Suffrage: Elected officer of the Nye County branch of the Nevada Equal Franchise Society; twice elected vice-president of the statewide Nevada Equal Franchise Society; in 1920 sent to Connecticut to lobby for suffrage by the National Woman's Suffrage Association
Marjorie Moore Brown was raised to be a lady in San Francisco and was a graduate of Mills College. She instead moved to the mining town of Tonopah, Nevada in 1905 as a bride of 19 years old. She would tell her story in 1968 in her book Lady in Boomtown: Miners and manners on the Nevada frontier.
For most of her life she was known as Mrs. Hugh Brown. She was a well-educated aristocrat who used her social and organizational skills to better her town and state through civic action in many avenues. In addition to her work with Nevada suffrage she was active in establishing a library, raising funds for World War I and working with the Nevada Federation of Women's Clubs.
Marjorie Brown was an early supporter of Nevada suffrage. In 1912 she was elected the Nye county press chairman at the founding meeting of the Tonopah auxiliary of the Nevada Equal Franchise Society. Marjorie attended the first state convention of the Nevada Equal Franchise Society (NEFS) and was elected second vice-president. In 1913 when some members of the Nye county suffrage group split from the NEFS and joined the Nevada Non-Militant Equal Suffrage Society, Marjorie stayed loyal to Anne Martin and the NEFS. In 1914 Marjorie was again elected to state office with the NEFS as third vice-president. When Nevada voters gave women the right to vote, Nye County voted 1,294 for and 537 against. This was a resounding victory for Marjorie Brown and the other women working for suffrage.
In 1920 in the final push for the passage of the 19th Amendment, Marjorie Brown was the Nevada representative in a group of 48 women from 48 states for the National Woman's Suffrage Association who were sent to Connecticut to canvas towns for suffrage and then to see the Connecticut Governor Holcomb, to encourage him to call a special session for equal suffrage for 9,500,000 Connecticut women.  In comparison the number of women in Nevada who gained the right to vote in 1914 was estimated by Anne Martin as 18,000.
Marjorie Brown and her family left Nevada in 1922 and moved to San Francisco, CA. Marjorie Brown lived to be 103 years old. She died in San Francisco, CA in 1987 and is buried in Cypress Lawn Cemetery, Colma, CA.
Sources:
Danielson and Putnam News: Putnam. Norwich Bulletin, April 30, 1920, pg. 6.
Equal Franchise Society formed in Tonopah. Tonopah Daily Bonanza, Mary 10, 1912, pg. 1.
Miss Martin Remains as Suffrage Leader. Nevada State Journal, February 25, 1914, pg. 8.
Mrs. Hugh Brown. Lady in Boomtown: Miners and manners on the Nevada frontier. American West Publishing Company, 1968.
Nevada Woman in Suffrage Contest. Carson City Daily Appeal, May 3, 1920, pg. 4.
New Officers are elected by suffragettes. Tonopah Daily Bonanza, April 8, 1913, pg. 1.
Nye County branch of Nevada Equal Franchise Society withdraws in a body State order. Tonopah Daily Bonanza, March 31, 1913, pg. 1.
Anne Martin. "The Winning of Nevada," in Suffragist, November 7, 1914.
Tonopah Suffragists Declare War Upon Society President. Tonopah Daily Bonanza, March 15, 1913, pg. 1.