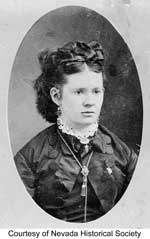 Born: 1845
Died: 1914
Mary Stoddard came to Virginia City in 1870, staying with an uncle and aunt, General Christopher Batterman and his wife, Lucy. Her early years had been spent in Connecticut, where she was born in 1845, married young, gave birth to a daughter, and worked as an assistant in a public school.
She taught school in Gold Hill from 1872 to 1874. On July 24, 1873, on a steamer in the middle of Lake Tahoe, she became the wife of journalist Alfred Doten (1829-1903). Mary Stoddard Doten gave birth to four children between 1875 and 1880.
In 1875, her mother and oldest daughter came from Connecticut to live with her. The family moved to Austin, where Doten took her teacher's examination and earned her first grade certificate. She resumed her teaching career there due to financial necessity.
In December 1883, she applied to the Reno public schools for a teaching position. She was hired and became one of Reno's pioneer teachers with a career that lasted from 1884 to 1903. During that time, she taught most of the subjects offered at Reno High School and served as vice principal.
In addition to her teaching career, Doten was active in the Nevada women's suffrage movement, was a prolific writer of articles, poetry and short stories, gave speeches at the 20th Century Club and was a charter member of the Nevada Historical Society. A school in northwest Reno was named in her honor. It was in use from 1912 to 1974.
Doten died March 12, 1914, and was buried in the Hillside Cemetery in Reno.
Written by Lynn Bremer, condensed by Kay Sanders.