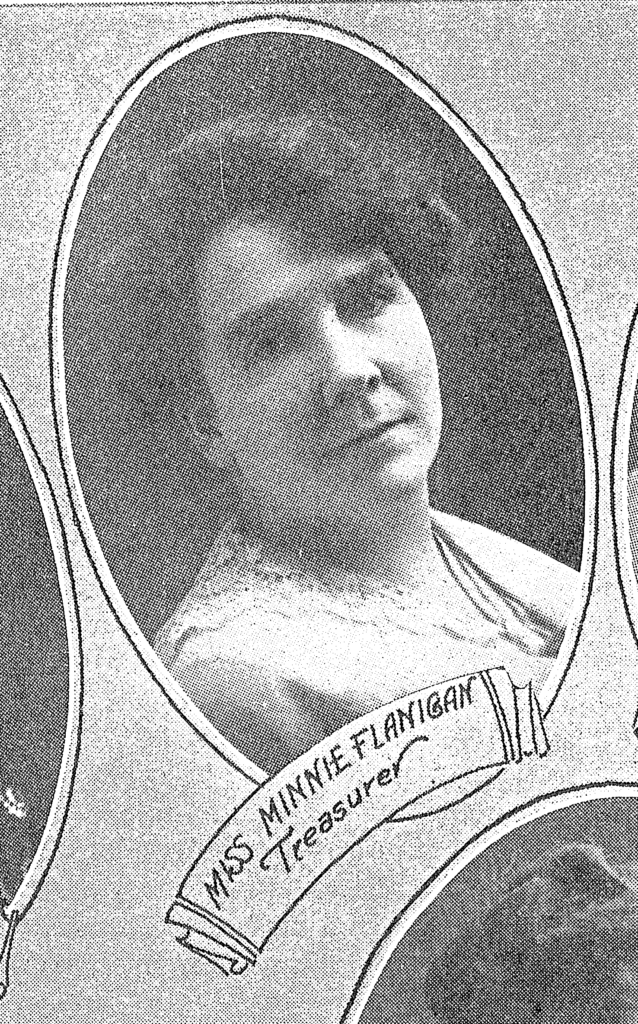 By Sasha Bellack and Laine Miller, students, and Serene Williams, faculty, at Sacred Heart Preparatory High School in Atherton, California
Role in Women's Suffrage: President, Twentieth Century Club and Reno Civic League, Suffragist in Nevada Equal Suffrage League, Washoe County Branch, Member of the National Woman's Party
Minnie Flanigan was born in Owego, New York on October 23, 1866 of Irish-born parents, James and Mary Flanigan, and lived much of her life in Washoe County, Nevada. Her last name was often spelled "Flannigan" or "Flanigan". There is no evidence that Minnie was ever married. She was educated through the 8th grade. Her aunt, Mrs. P. L. Flanigan, was also a suffragist. Minnie's brother was a prominent senator from Nevada.
Much of Minnie's suffrage work occurred during the years of 1914-1918. In 1914 she served as Treasurer for Anne Martin who was campaigning for office in Nevada. She distributed suffragist literature throughout the state that year. In 1916 she was active in the Nevada contingent of the National Woman's Party. That year she presided over a convention of suffragists affiliated with the NWP in Washoe County, NV. Also in 1916 she was active with the Nevada Civic League and served as president of the Reno League and chaired a general committee tasked with arranging the entire event. Minnie's work in 1916 caused some consternation among women in Nevada as she sided with the National Woman's Party in their militant fight for suffrage. There were numerous letters written to Minnie that year where women withdrew their affiliation with the Nevada Women's Civic League over that group's affiliation with the NWP. She is listed as bringing in a new donor to the NWP in the August 19, 1916 edition of The Suffragist. In 1918 she was a supporter of the senate campaign of Nevada suffragist Anne Martin. Flanigan was also highly engaged in civic work as she was also a member of the Reno Club, Business and Professional Women's Club, and American Penwomen during her life.
In 1928 she was chosen to be one of only 16 women to participate in a national drive for the Republican National Committee (RNC). She represented professional business women and was tasked with recruiting more women to the Republican Party. That year she was documented in "Women in the West." In the 1930s she was living in Reno and reported herself as the head of her household in the 1930 census. In the 1940s she was reported as living in Nevada with her brother. She died in 1953 and is buried in Our Mother of Sorrows Cemetery in Reno, Nevada in a shared plot with her brother Joseph.
Sources:
1)"Civic League and Woman's Party" Nevada State Journal, August 29, 1916.
2)"Civic League is Formed by Women" Reno Gazette-Journal, February 18, 1915.
3)Find A Grave, database and images (https://www.findagrave.com : accessed 23 May 2019), memorial page for Minnie Flanigan (1866–3 Apr 1953), Find A Grave Memorial no. 107011292, citing Our Mother of Sorrows Cemetery, Reno, Washoe County, Nevada, USA ; Maintained by Mark's Mom (contributor 46620026).
4)Harmon, Mella "Twentieth Century Club," Reno Historical, http://renohistorical.org/items/show/41.
5)"It's Return to Ruffles" Reno Gazette-Journal, February 14, 1914.
6)"Miss Anne Martin Said to Intend to Run for Senate" Reno Gazette-Journal, January 3, 1918.
7)"Mrs. Sam Belford Arraigns Women's Party" Mason Valley News, Yerington, Nevada August 31, 1916
8)"Nevada Women's Civic League Will Convene" Sacramento Union, Volume 188, Number 56, 25 April 1916
9)"Nevada's Voter's Club" The Daily Appeal, Carson City, Nevada, August 146, 1916.
10)"Pick 16 State Leaders: Republicans Seek to Rally Business and Professional Women." New York Times, Sep 30, 1928, pp. 6.
11)"Reno Civic League Selects Its Officers" Reno Gazette-Journal, September 28, 1916.
12)Reno Evening Gazette, April 4, 1953.
13)The Suffragist August 19, 1916
14)"The Story of the Nevada Equal Suffrage Campaign: Memoirs of Anne Martin" https://suffrage100nv.org/wp-content/uploads/2014/06/The-Story-of-the-Nevada-Equal-Suffrage-Campaign.pdf
15)U.S., Women of the West, 1928. Provo, UT, USA: Ancestry.com, 2011. Original data: Binheim, Max, compiler and editor. Women of the West. 1928 ed. Los Angeles, California: Publishers Press, 1928. California State Library, Sacramento, California. Call Number: C920.7 B61.
16)Year: 1940; Census Place: Reno, Washoe, Nevada; Roll: m-t0627-02281; Enumeration District: 16-8A
Image of Minnie Flanigan:
1)Page 8 of this document: 
https://www.leg.state.nv.us/Division/Research/Publications/Guide/Guide2019.pdf