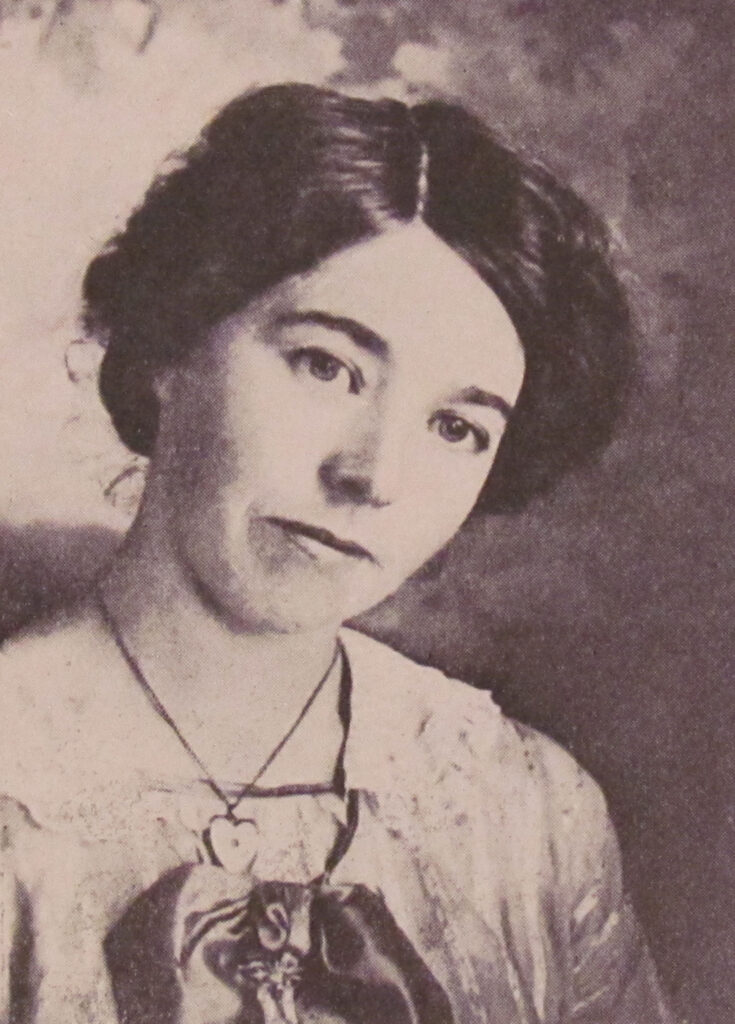 By Mona Reno, Nevada Women's History Project
Role in Women's Suffrage: President, Eureka County Equal Franchise Society; Teacher; Active in the Civic League
Sophia Fulton was born at home in Eureka, Eureka County, NV on September 24, 1886. Her mother was widowed and had two other children. Sophia married Rudolph Zadow on October 7, 1908 in Eureka, NV. They eventually had two children, Frederic F. Zadow and Vera Zadow.
Sophia Zadow was active in Nevada's successful effort to pass the equal franchise during 1913-1914.  The Out West Magazine article "The Clash in Nevada" records: "The Eureka branch has wisely used the lure of literary and musical program to attract women to its semi-monthly meetings. Mrs. Laura Hoegh, Miss Effie Eather and Mrs. Rudolph Zadow have been the successive presidents of this lively society. Taking advantage of the dance wave over the country, they gave a Labor Day ball which fattened both their social prestige and their treasury." In 1915 Sophia Zadow gave the final report of the Eureka County Equal Franchise Society at the last meeting.

Also, in 1915 the Franchise Societies across the state began reorganization as Civic Leagues that affiliated with a state league. Sophia Zadow was involved in this transition in Eureka, as their vice-president.

The Zadow family moved to Reno, NV, where Rudolph dies in 1937.  Sophia remains active in civic events in the Reno area and is listed as a teacher on the 1940 US Census.  Sophia Fulton Zadow dies in Reno in October of 1975.
Sources:
Nevada, Death Certificates, 1911-1965. Ancestry.com
Nevada State Journal, "Leader Reviews Nevada Vote for Women, Campaign of 1914 for Adoption of Suffrage Amendment Lively; Many Partook in Ballot Effort." October 26, 1947, pg. 20.
Reno Gazette-Journal, "Women Voters Will Convene Tomorrow, Equal Franchise Society to Hold Its Final Meeting at State Headquarters." February 17, 1915, Main Edition, pg. 1.
Reno Gazette-Journal, "Miss Martin at Head of League, New Organization of Nevada Women Choses Officers and Dispatches Work Swiftly."  February 19, 1915, pg. 8.
Reno Gazette-Journal, "Civic Leagues Being Formed, State Organization of Women Growing; New Branches Being Started," March 28, 1915, pg. 4.
Social Security Death Index, 1935-2014. Ancestry.com
United States Censuses, 1900, 1910, 1920, 1930, 1940. Ancestry.com
Western States Marriage Record Index. Special Collections & Family History, Brigham Young University website.