Frances Slaven Williamson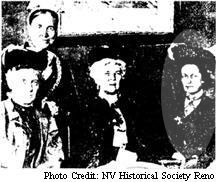 Born: 1842
Died: 1919
Frances Slaven Williamson of Austin, Nevada was a leader in the equal suffrage movement years before Anne Martin became famous. Born in Canada in 1842, she moved to Austin in 1863 to teach at the school and by 1865 became its principal.
In 1868, she married John Williamson, a prominent member of Austin society. Frances bore six children, continued to teach, and became an author, displaying her books at the 1893 World's Fair. Over a period of years, five of their children died, and in 1894 her husband, then a Lander County state senator, killed himself.
The impetus of her husband's death drove her to become one of the early leaders of the suffrage movement in Nevada. In 1894, she and two other ladies organized a meeting on equal suffrage at the Austin courthouse that attracted nearly 125 people. Frances was elected corresponding secretary of the "Lucy Stone Non-Partisan Equal Suffrage League," Nevada's first specific equal suffrage organization. The league achieved the passage of a suffrage resolution in the Nevada Assembly and Senate in February 1895. The first State Equal Suffrage Association convention met in Reno in October 1895. Frances was elected president.
In 1897, she and her daughter, Mary Laura, moved to Reno, where they published a pro-suffrage newspaper, the Nevada Citizen. The paper was sent to suffrage organizations throughout the state.
On December 21, 1919, Frances passed away, the same year the Nineteenth Amendment was passed by Congress and sent to the states for ratification. Frances is buried in Austin next to her husband and children.
Written by Sally Wilkins, condensed by Marion LaVoy.
Read more about Frances Slaven Williamson on the NWHP website.